---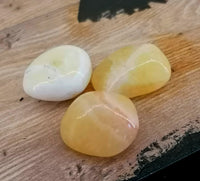 Yellow Calcite is a great eliminator and stimulates the will.  Its energy is uplifting.  it enhances meditation, inducing a deep state of relaxation and spirituality and linking to the highest form of spiritual guidance.  
Calcite has a positive effect, especially where someone has lost hope or motivation.  It combats laziness, aiding in becoming more energetic in all levels.
Each Tumble Stone weighs approx 10-15g
Price based on individual stone.