---
About Us
Penny Farthing was established in June 1983.  Throughout the years, our store has prided itself on a high level of customer service.  We have an extensive selection of body jewellery, rare and popular crystals and incense, which we pride ourselves in.  We also have a beautiful array if silver and pewter jeweller, from earrings to pendants and not to mention our fantastic selection of gifts for that special occasion.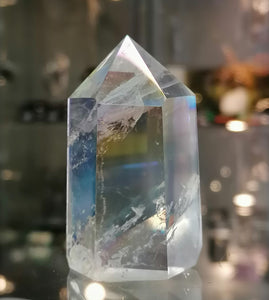 Angel Aura Quartz Standing Point
Angel Aura carries a very loving and sweet energy.  It stimulates the spirit and elevates one's mood.
When you meditate with this crystal, it allows you to enter a state of serenity and peace.
Angel Aura may also be used to align and purify all chakras.
Angel Aura is an all Healer, harmonising ones energy field with the physical body.  its a great crystal for anxiety, panic attacks and phobias.