---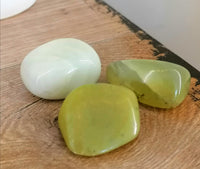 Serpentine is an earthing stone that aids meditation and spiritual exploration.  It assists the retrieval of wisdom, and regains memory of past lives.
Serpentine helps you to be in more in control of your life.  It Corrects mental and emotional imbalances and assists the conscious direction of healing energy toward the problem areas.
Serpentine is a gentle, tender-natured stone that brings you into contact with angelic guidance.
Each stone weighs approx 10-15g
price based on individual stone
Colours, shades and shape will differ from picture