---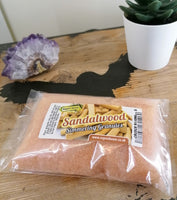 'Simmering Granules' are a natural salt based product with added fragrance for use in burners/diffusers. Simmering Granules are safe, clean and simple to use.
No water is required in the well of the burner, just a couple of teaspoons of simmering granules, which will gradually release their scent over several hours. When the fragrance has evaporated, the granules residue can be easily disposed of.
Simmering Granules leave no messy residue in the burner so are cleaner, easier and safer to use than any other product on the market. 
Weighs Approx 180g