---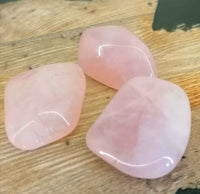 Rose Quartz is the stone of unconditional love and infinite peace.  It is the most important crystal for the heart and the heart chakra teaching the true essence of love.  it purifies and opens the heart at all levels, bringing seep healing and self love.
Rose Quartz is calming, reassuring and excellent for use in trauma or crisis.  If you want to attract love, look no further than romantic Rose Quartz.
Rose Quartz gently draws off negative energies and replaces it with loving vibes.
Each Stone weighs Approx 10-15g
Price based on individual stone
Colours, shades, shapes and sizes do vary on individual stone