---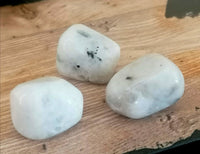 Moonstone is a "stone of new beginnings".  As its name suggests, it is strongly connected to the moon and to the intuition.  Like the moon, the stone is refelctive and reminds us that, as the moon waxes and wanes, so everything is part of a cycle of change.
Moonstone calms overreactions to situations and to emotional triggers.  It soothes instability and stress, and stabilises the emotions.
Moonstone is excellent for PMS, Conception, Pregnancy, Childbirth, and Breast-Feeding.
Each tumble stone stone weighs Approx 10-15g
Priced based on individual tumble stone