---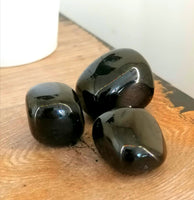 Jet is actually formed from fossilised wood but looks like coal.  It has been used as a talisman since the stone age times.
Jet draws out negative energy and alleviates unreasonable fears.  it is said that those attracted to this stone are "old souls" who have a long experience of being incarnated on the earth.
Jet promotes taking control of life.  It balances mood swings and alleviates depression, bringing stability and balance. 
Each Stone weighs approx 10-15g
Price based on individual stone
Colour, shade, shape and sizes do vary on the individual stone