---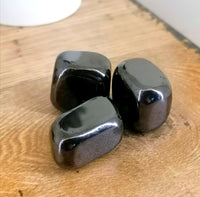 Hematite is particularly effective at grounding and protecting.  It harmonises mind, body and spirit.  It dissolves negativity and prevents negative energies from entering the aura, restoring peace and harmony to the body.
Hematite is strong, it supports timid people, boosts self-esteem and survivabilty, enhances willpower and reliability and imparts confidence.
Each Stone Weighs Approx 10-15g
Price based on individual stone
Colours, shade, shape and sizes do vary on individual stone.