---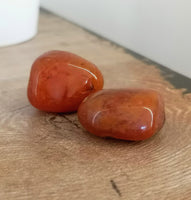 Carnelian grounds and anchors you in the present reality.
A stabilising stone with high energy, it is excellent for restoring vitality and motivation.  Carnelian has the ability to cleanse other stones.
Carnelian imparts an acceptance of the cycle of life and removes fears of death.  This stone helps you to trust yourself and your perceptions.   
Each Stone Weighs Approx 10-15g
Priced based on each individual stone
Colours, shade, shape and sizes do vary on individual stones