---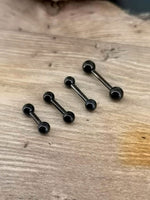 The process used to black-coat jewellery is called PVD (physical vapor deposition).  It is an outer coating over a base metal such as Titanium or Steel.
This coating is hard wearing and perfect for tackling everyday life. As with any jewellery with a coating on, this will eventually fade.
Titanium used as the base metal is hypoallergenic and is super for people with sensitive skin to Steel.
Style: Barbell
Material: Black PVD coating on Titanium
Finish: Polished
Thickness: 1.6mm
Size: Various