---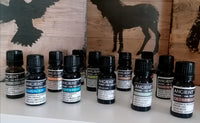 Essential oils have been an integral part of the spiritual practices of many religions and cultures throughout history.
Using essential oils to alleviate both physical and emotional symptoms is one of the most popular of all the complementary therapies.  
Weight: 10 ml
Scent: Various.........Chamomile and Rose does contain a dilute of Grapeseed Oil mix.
Prices do vary between Oils